Surviving Sunday: Packers news, notes and links for the football deprived
Brett Favre is going into the NFL Hall of Fame. And apparently it took all of six seconds to make it official.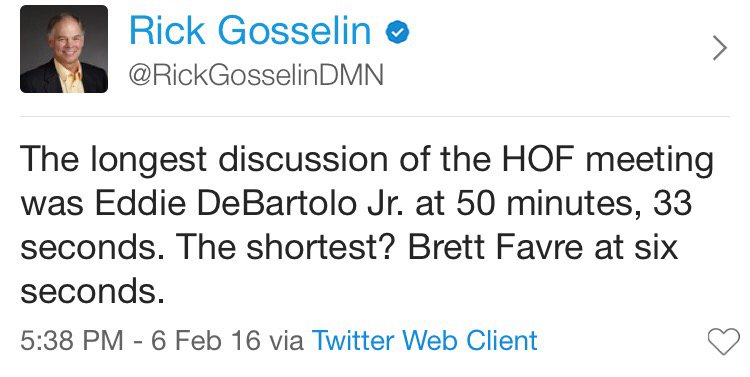 In the last year, Favre made his return to Green Bay, was inducted into the Packers Hall of Fame, got his number retired at Lambeau Field and is now heading to the NFL Hall of Fame.
I wish I had something more insightful to say, but Favre's year speaks for itself. It's great to have Favre back in the Packers family and it'll be nice to see him take his rightful spot in Canton, OH, in the Fall.
Surviving Sunday is a bit light on content this week because 1) it's been a long week and 2) I had about 1,000 words written, but 800 of them mysteriously disappeared. Technology....sigh.....(well, it was probably user error, but I'm going to blame technology).
Packers news, notes and links
Non-Packers links and other nonsense
Cancer update: I began chemotherapy this week. The side effects weren't that bad, but I'm not going to brag too much because who knows what might happen as treatments continue. My latest Caring Bridge update cane be read here.
Super Bowl prediction: Panthers 27, Broncos 16. My conference title game predictions were about as wrong as they could be, so take my Super Bowl prediction for what it's worth.